Heelllo Dear friends!
No matter how old I get or the fact that I already have 2 kids, I still look forward to having fun on April Fools' Day every year, especially when it comes to what's serving on the table.
April Fools' Day is one of my sons' favorite days of the year since it's a great excuse to play pranks on me!
I mean, who doesn't like having fun? I also like pulling pranks on my friends and family, and there's no better day than April 1st to do it.
So with no further ado, it's my pleasure to introduce you to 4 of the most used prank sweets of mine. Don't worry, all of these recipes are healthy-checked. We prank but we care!
1. April Fools' Sprouts Pop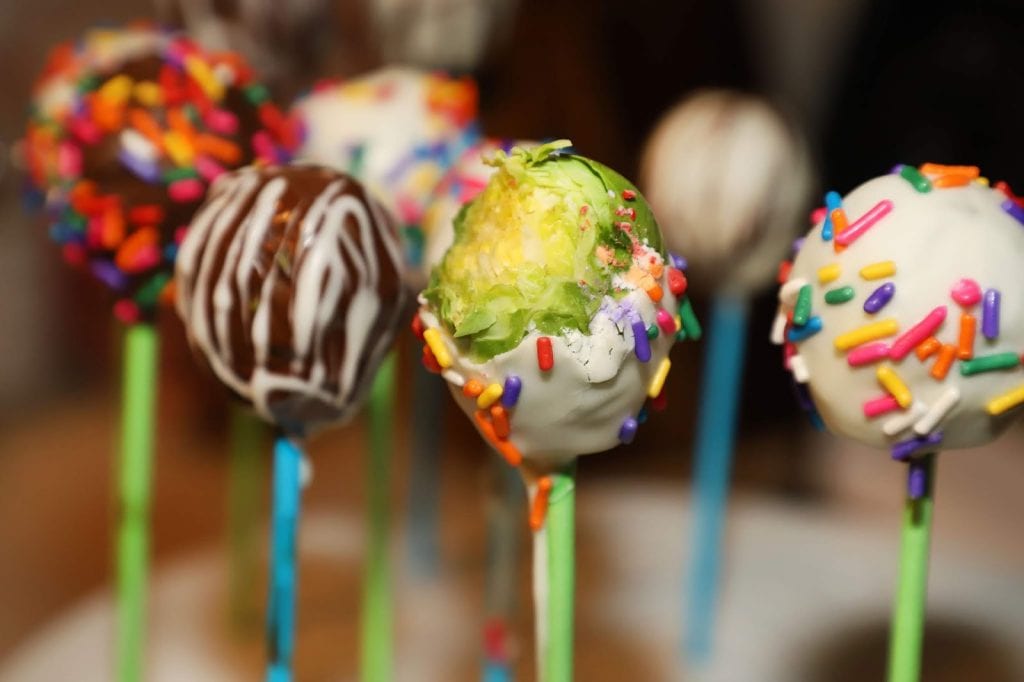 When you were a kid, what food did you despise the most? Sprouts are a favorite of mine, as are some other veggies.
The only thing I know my kids will eat for sure are cake pops, so I bought some for them. Cake pops and sprouts, what a strange combination!
It's a terrific trick for youngsters, and it's simple to create. It is also nutritious and good for them.
INGREDIENTS:
8 Brussel Sprouts
1 Bag Dark Chocolate Chips
1 Tablespoon Coconut Oil
METHOD:
1. Brussel sprouts should be soft when cooked for 15 minutes in boiling water.
2. In order to create the appearance of a cake pop, cut the kabob sticks in half and insert the brussels sprouts halfway into them.
3. Stir the chocolate chips and coconut oil together on low heat until they are completely melted, then remove from the heat.
4. Melt the chocolate and roll the kabob sticks with the brussels sprouts in the chocolate until they are completely covered. Cool on wax paper.
If you'd like, you can decorate with sprinkles or anything else.
2. Raspberry Fool Ice Cream
Make a quick and easy dessert out of ice cream if you have to play a prank.
In a nod to the traditional English dessert of gooseberry ice cream, our raspberry ice cream cup is an elegant and delicious modern twist. Light and fluffy fruit parfait without the yogurt is what you'll get. You won't regret having a sip of this!
Your prey will be surprised, but not disappointed when they take that first lick. To make up for the sprouts, this is our next April Fool's Day food prank! This treat is also gluten free.
INGREDIENTS:
1 pint (vegan) whipping cream
1/3 cup coconut sugar
1/4 tsp pure vanilla extract
340g /12 oz bag raspberries frozen, partially defrosted
3 Tbsp orange liqueur or raspberry liqueur, or orange juice
2-3 Tbsp coconut sugar powder
METHOD:
1. A large bowl or a stand mixer fitted with a whip attachment can be used to whip whipping cream, coconut sugar, and vanilla. Beat the cream until it forms firm peaks, then cover and refrigerate.
2. Blend raspberries, liqueur or juice, and 2 Tbsp of coconut sugar powder in a blender or food processor. Make sure the berries are completely pureed before adding the rest of the sugar. Remove as many seeds as you'd like by putting the berry puree through a strainer, all or part of the way. If you don't mind the raspberry seeds, skip this step.
3. Then fold in the raspberry puree with the whipped cream. Only fold a few times if you like the berry streaks. Do not over-stir until you achieve the desired shade of pink for your dessert.
4. Refrigerate until well chilled, then serve from individual dishes.
3. Apple French fries
Bring out these crinkle-cut baked apple sticks with cinnamon-sugar sprinkles and serve them with strawberry jam "ketchup" for dipping and your family will be amazed. Regular "French fries" may be made using a knife instead of a crinkle cutter if you don't have access to one.
INGREDIENTS:
4 apples peeled
½ teaspoon cinnamon more or less to taste
Granulated stevia
Cooking spray (I use the coconut oil spray)
Optional: strawberry preserves for dipping
METHOD:
1. The oven should be preheated to 400°F.
2. Cooking spray should be used to coat a cookie sheet.
3. Use a crinkle cutter to make thin strips of french fries.
4. Toss with cinnamon and sugar or a zero-calorie sweetener like stevia Swerve.
5. Bake 8 to 12 minutes in the oven.
4. How about a nice Berry Soda to serve after the fest?
To celebrate spring and summer, imagine taking a big swig of this luscious berry soda. And you have been full with all the other "prank" food, what better than having a nice beverage to sip on. But you keep pulling, and pulling… but no fountain of fizz ever reaches your mouth.
Confused? Yes. Disappointed? No!
In this case, the drink is not a drink at all, but a dessert disguised as such. This trick could potentially make your victims glad to be deceived.
INGREDIENTS:
2 packages (3 ounces each) strawberry gelatin
3/4 cup sliced fresh strawberries
3/4 cup fresh raspberries
3/4 cup fresh blueberries
METHOD:
1. Prepare the gelatin according to the instructions on the package.
2. Refrigerate for at least two hours before serving.
3. Add the berries and mix well.
4. Drink with a tall, narrow rim or soda glasses are ideal. Each glass should have a straw in it. Set in the refrigerator for at least an hour.
The scarier April Fools' pranks aren't really my cup of tea, even though I've always been up for some fun when April Fools' Day comes knocking on my door year after year. So, I'm going to do what I'm best at, which is seriously dessert pranking my people. The reaction of your family when they discover that they've been pranked is priceless, I promise. After all, the most important is to have a wonderful time with your family, you have your fun, your family eat well, and spend time together while celebrating the holiday, right?
Share with us your pranks and ideas and we will all be thankful for new prank ideas for next year!
Have a sweet and healthy prank week!
Your Leonor