Hi dear friends!
Another healthy recipe is here, for you to get your hands dirty this Carnival season is here! Part 2 of the Carnival series is no other than our beloved King Cake. As always, my recipe is gluten-free, dairy-free– one that you can freely make and have everyone enjoy together.
A traditional King Cake is a brioche-style, sweet, buttery, and rich cake. Traditionally, the dough is braided, ring-shaped, or cooked in a bundt form. But no more worries about a friend who has allergies! Gluten-free yeast, vegan butter, and healthier sugar are all present in this carnival spirit treat. I'm here to help you create this year's festival magic cake that can please almost anyone!
By making a few easy changes and replacements, you can prepare a wonderful Mardi Gras King Cake that everyone can enjoy, even if they have food allergies. We used 1:1 gluten-free flour and gluten-free yeast, water, sweetener (erythritol or demerara sugar), and salt in the dough, along with egg substitutes and vegan butter in the frosting.
The filling consists of erythritol (or demerara sugar), vegan butter (or cream cheese), cinnamon, and vanilla essence. You may add various spices, dried fruits, etc. to make it your own. No pecans or almonds in this King Cake for those allergic to nuts! To make the exterior icing, all you need is erythritol mixed with a little water to keep it thick yet pourable. Demerara or erythritol sugar crystals follow. Sugar crystals were colored with natural food colors that I've made myself!
INGREDIENTS:
Cake Dough:
3 Cups 1-to-1 Gluten-Free Baking Flour
1 Packet (2.5 tsp) Gluten-Free Active Dry Yeast
1 Cup Warm Water
¼ Cup Granulated Erythritol (or preferred granulated sweetener)
½ Tsp Salt
2 Prepared Bob's Red Mill Egg Replacements
¼ Cup (4 Tsp) Vegan/Soy-Free Butter (softened)
Unsweetened Non-Dairy Milk (set aside, for brushing cake)
Cake Filling:
¾ Cup Brown Sugar Erythritol (or preferred brown sugar sweetener)
½ Tsp Cinnamon
½ Tsp Pure Madagascar Bourbon Vanilla Extract
¼ Cup Vegan/Soy-Free Butter (softened) OR ½ Cup Vegan/Soy-Free Plain Cream Cheese
¼ Tsp Ground Nutmeg (optional)
¼ Cup Raisins (optional)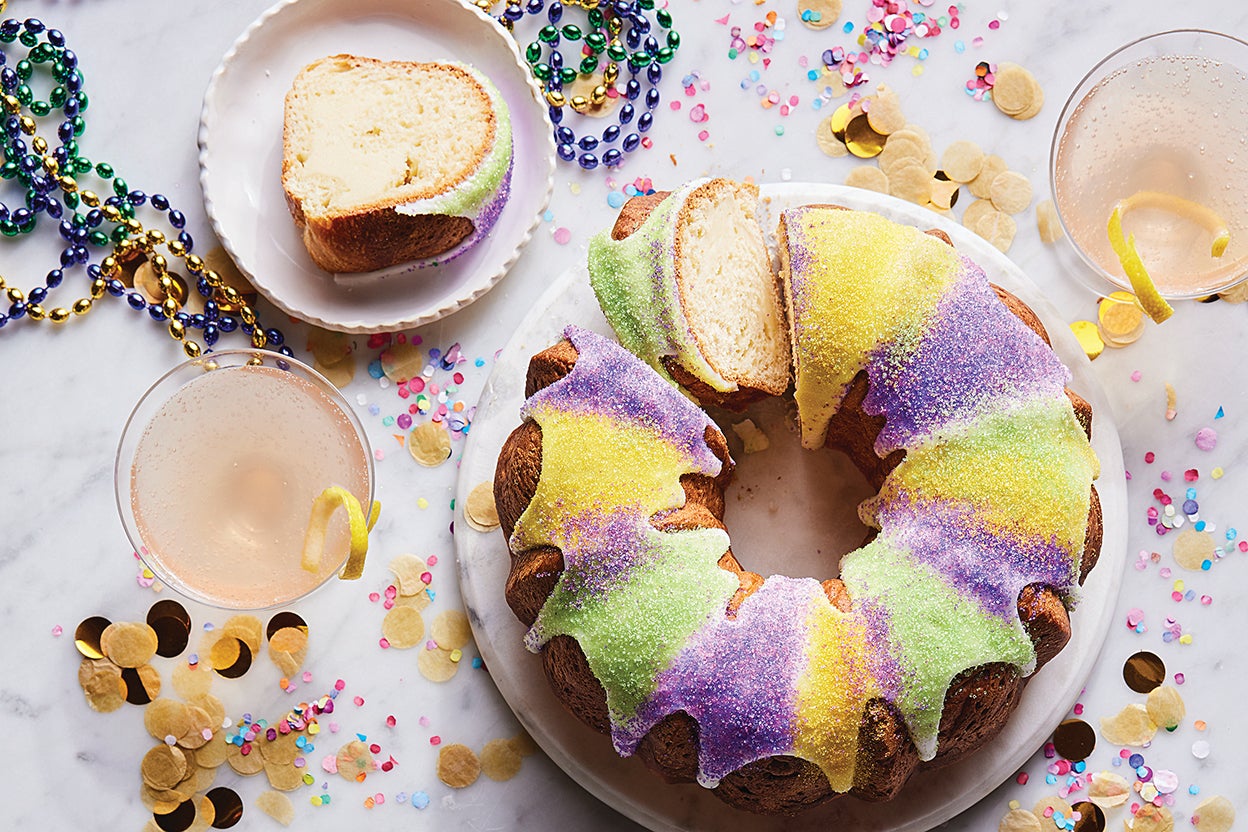 Simple Icing:
1 to 2 Cups Powdered Erythritol (or preferred powdered sweetener)
Water (to desired consistency)
Colored Sugar Crystals: Plain Demerara Sugar Crystals + Natural Food Dyes (Purple, Green, Yellow)
METHOD:
In a bowl, combine the yeast, granulated sweetener, salt, and warm water; let sit for five minutes to proof.
Combine the flour, yeast, egg substitutes, and softened butter in a large mixing basin. It's time for some kneading. Allow to rise in a warm, dry place for one hour.
375°F/190°C is the ideal temperature for baking.
Make the cake filling by combining all the ingredients and chilling until the dough is ready.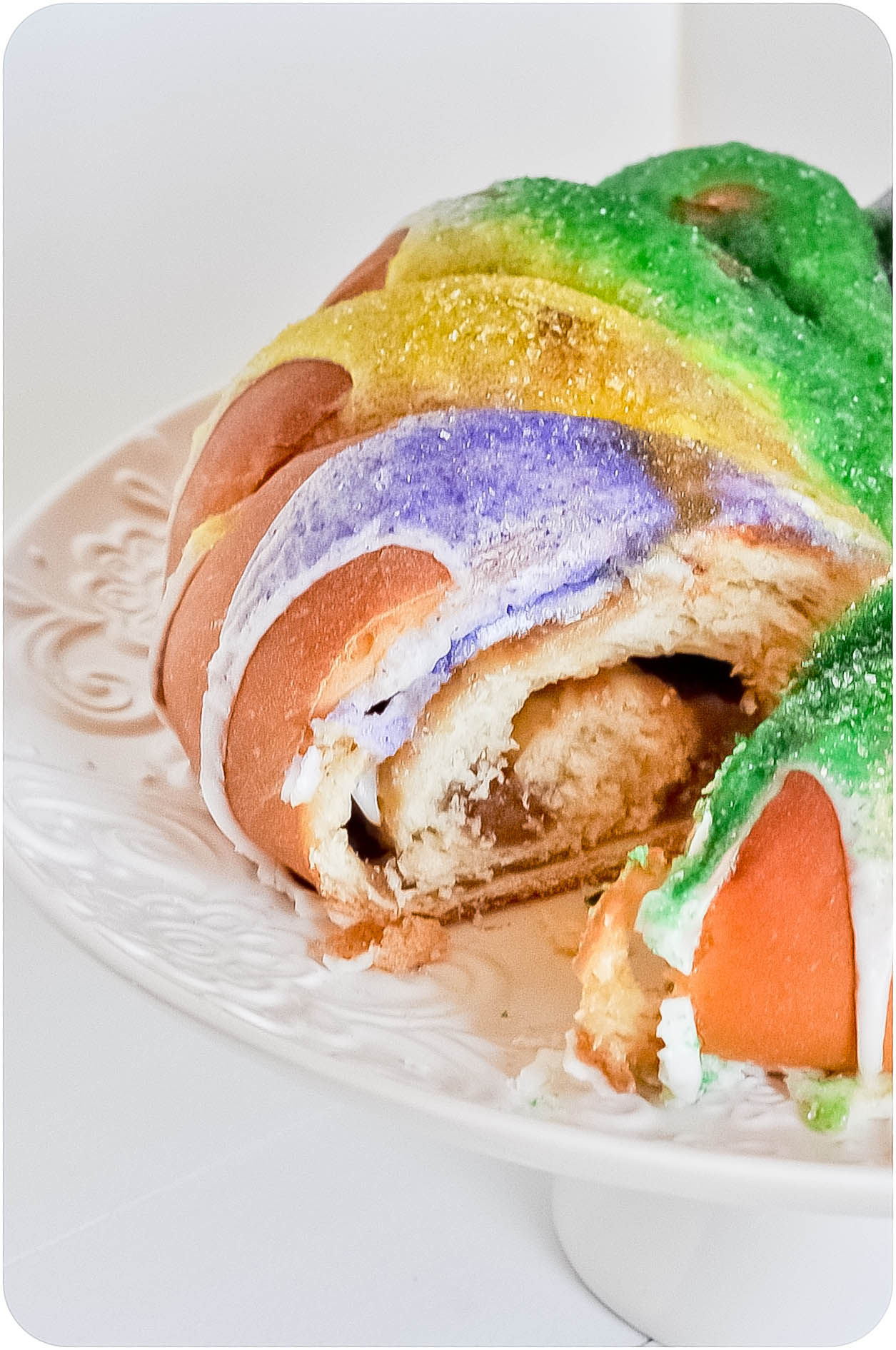 If you have a Silpat surface, plastic wrap, or parchment paper, you may roll the dough out into a rectangle that is about 14 inch thick.
Leave the dough's edges free of filling as you spread the filling over the rolled-out dough.
Starting at one end of the dough, wrap it up like a cinnamon roll, using the mat to hold the roll in place.
Using your hands, gently create a ring out of the long roll, and then tightly close the cake ring.
Place the prepared cake on a baking sheet, brush the ring with milk, and bake for 20-25 minutes in a preheated oven. Silpat or parchment paper works well here.
While the frosting and sugar crystals are cooling, remove the cake from the pan.
Slowly add water to the powdered sweetener mixture until it reaches an icing-like consistency.
If you're using ordinary sugar crystals, mix them with food colors to get colorful sugar.
Pour or drizzle the frosting over the cooled cake, then top with the colorful sugar crystals. Make a mess and have a good time with brightly colored décor! Once the cake has been baked and decorated, it is time to hide a baby within.
Voilà!
Allergen-free, vegan, and sugar-free, this King Cake recipe is a winner! Sweet and buttery, this cake ring is covered in brightly colored sugar crystals and frosting! This traditional Fat Tuesday dessert will be a hit with the whole family!
Enjoy your healthy and sweet Carnival!
Your Leonor